If you are an online Internet Marketer, I assume that you have realised by now that having a list building system in place, can help you have a successful online career.
To create a list building system, you'll need a lead capture page together with a follow up email autoresponder.
If you don't have a lot of time on your hands or if you don't want to build a lead capture page yourself, where can you go to get a cheap lead capture template?
The answer? Instant Squeeze Page Generator – the master list builder. With Instant Squeeze Page Generator, you can build your list fast and free.
In my opinion, driving traffic to your website is great but building a list is far more important.
The key reason is that once you have built trust with your customer, you can promote other products to them again and again and that is extremely powerful for your business. Repeat business is what you makes you successful whether online or offline.
How much does it cost to join Instant Squeeze Page Generator?
---
Please put your wallet away will you? It will cost you absolutely nothing to give the Instant Squeeze Page Generator a try. That's right, absolutely nothing at all.
Building a list is not easy
---
As easy as list building might sound, it certainly is not easy.
An email address is something that is both precious and personal to your visitor. The question is this: what do you have to offer that would make a visitor to your website want to give you their email address?
So apart from knowing how to build a lead capture page, what free gift are you willing to give your visitor that will be make them want to give you their email address?
All of this requires research which in turn means time. As we all know, time is not something we all possess. Hence this why the Instant Squeeze Page Generator.com site can save you time and oh yes, plenty of it!
What free product can you give away?
---
All you need to do is this:
select one digital product you want to give away as a a free gift
Select from a variety of lead capture templates
There are over 30 lead capture templates to choose from.
Which autoresponder should you use?
---
Really the choice is yours. Both GetResponse and Aweber (two of the best out there) offer free trials if you haven't already got an autoresponder.
If you do this right, you can easily set up an automated list building system with Instant Squeeze Page Generator.com within minutes of joining.
Is the InstantSqueezePageGenerator.com site a scam?
---
I have tested the Instant SqueezePageGenerator.com site and I have got people on my list. You will get people on your list if you are prepared to put in the hard work.
Whether people stay on your list or not will depend largely on whether you provide them with valuable content.
Not sure what to write about if you get a subscriber on your list?
---
I can imagine that for a lot of people doing the hard of work getting subscribers to their list is the easy part. But how do you follow up with your subscribers? Instant Squeeze Page Generator have taken care of this challenge for you.
All you need to do is head over to the Affiliates section of the site.
Then select Affiliate Toolbox.
You then click on Send Email and boom! You will find an email autoresponder follow up series. Add it to your autoresponder so that when your subscriber downloads your free lead magnet, you can follow up with them in an email sequence.
Incidentally, if you have other promotions and want a more generic email follow up series then you can have a look at this site: CLICK HERE.
Instant Squeeze Page Generator is the easiest way to earn money online
---
Should you choose to, you can treat the Instant Squeeze Page Generator as an Internet affiliate program in its own right.
The Instant Squeeze Page Generator is a free or low cost business opportunity that allows you to earn commissions by promoting the program. You can stay free or you can upgrade your membership. The choice is yours.
Do ensure that you update your payment email address in your profile. Commissions are paid out weekly on a Friday.
If you wish to join this incredible list building system, then click on the banner below. Remember it is completely free to join.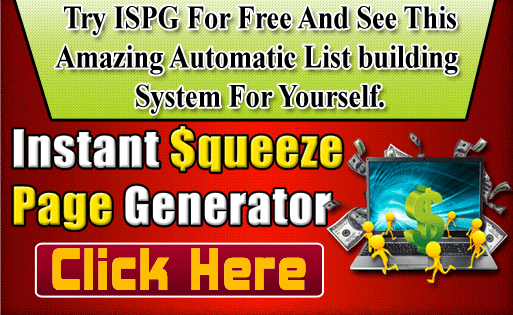 Please follow and like us: